Just find out you're pregnant and not know WTF to do next? Yeah, most of us felt like that. But we've got you covered with these early pregnancy tips that will help you get through the early weeks of pregnancy with a little less stress.
Those early weeks of pregnancy are weird. There are so many emotions, so much to plan, and so many changes coming your way. Get a headstart with these early pregnancy tips.
Just a quick heads up that along with these early pregnancy tips, this post might contain affiliate links. If you use our links to purchase anything we recommend, we get a small commission at no extra cost to you!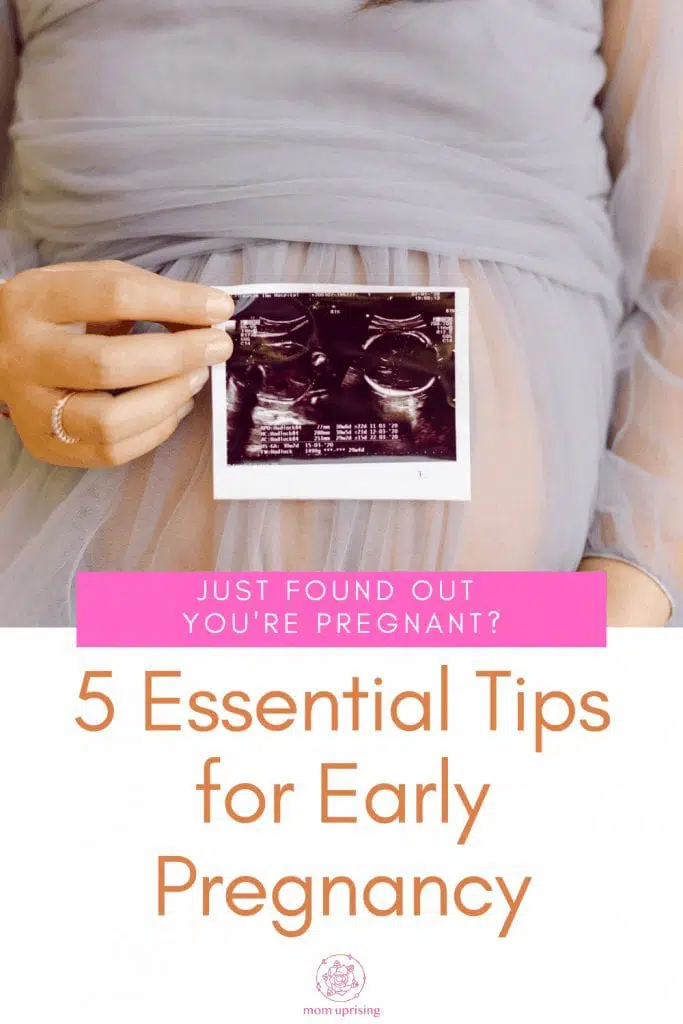 Choose your healthcare provider in early pregnancy if possible
Many women will just continue to work with the doctor or midwife they used for years, but this might not be the wisest choice and why we've included this as one of our early pregnancy tips.
Why?
Not all doctors and midwives have the same expertise, experience, opinions, or tendencies when helping women birth babies.
For example, if you're planning a natural birth, but your doctor has higher than average c-section rates, then you might want to consider finding someone else.
Likewise, if you want all the drugs and/or a scheduled c-section if possible, then natural-minded midwifery that does birth center and homebirths probably won't be a great fit.
Many healthcare professionals won't schedule your first visit right away unless there is an issue, so you should have a little bit of time to think about the birth you want a do a little research to find the best place for you. But seriously consider this because it could completely change your experience in pregnancy and birth, which is why it's the top tips for our early pregnancy tips.
Decide when/if you want to tell people you're pregnant
This can be a sticky situation depending on a whole host of issues. Maybe you have a job to worry about, and you don't know the maternity leave policies. Or perhaps you're afraid to tell people in case you have a miscarriage like somehow you'll jinx yourself.
There's a ton of logistical questions AND emotional questions you need to answer before firing off an IG post with the big news. Take your time to decide how/when/if you'd like to announce your pregnancy.
I would, however, strongly consider telling at least *some* people sooner rather than later. In case the worse should happen, you'll want some solid folks in your corner for support, not to mention that even if your pregnancy is perfectly healthy you might still need support because well… it can be a tough process. (hello, morning – or all day – sickness)
I love this article that discusses why one mom is alerting the media really early about her pregnancy.
Enjoy the first weeks of pregnancy it while it lasts
Maybe you'll be a unicorn mom who has no terrible symptoms while pregnant, but I hate to be the bearer of bad news… you will most likely have to deal with some fairly rough aspects of growing human life inside of you at some point.
We all know about nausea, but there's also the exhaustion, acid reflux, heartburn, sensitivity to smells, weird cravings (like soap), joint pain, carpal tunnel, etc. etc. etc. The list goes on and on.
So IF you are feeling great, enjoy it… an obvious but one of the early pregnancy tips that must be said.
In my pregnancies, I always feel like total crap for the first trimester, but by the second I am feeling awesome and am able to feel pretty good up until those last few weeks when you're basically the size of a mammoth (and probably as hairy since you can't reach to shave). But that first trimester is so rough.
(Be sure to check our essential post with early pregnancy tips and how to survive the first trimester!)
Take your prenatal vitamins and practice self-care in the early weeks of pregnancy
Now more than ever you need to take care of you. This means eating as well as you can, taking your prenatal vitamins, getting sleep, and maybe getting exercise depending on your healthcare provider's recommendations (usually some exercise is cool, but of course check).
I personally take Rainbow Lite prenatals because they are natural and not the size of horse pills.
When it comes to food, if you are dealing with morning sickness then just eat whatever makes you feel good. Grilled cheese sandwiches with bacon were my jam for my twins, but caesar salad was the.best.thing.ever with my daughter. As much as eating healthy is important, if you're sick, just do your best.
Learn the do's and don'ts of pregnancy
Been slathering on the retinol-laced eye creams to stop those teeny crows feet you see starting? Might want to rethink that with this next one of our early pregnancy tips.
There are quite a few ingredients that are no-no's while pregnant but are fairly common when it comes to beauty products. (Here's a shortlist from Vogue you might want to check out)
I always use caution when choosing products I use while pregnant. Even when I'm breastfeeding I use caution. (Check out what I use while breastfeeding here.)
As soon as you get pregnant, your body is sharing space with another little someday human, and teeny tiny humans can't handle the same things we can, not to mention there are some weird restrictions during pregnancy you probably never thought of… like no cold deli meats. So we had to include safety as one of our early pregnancy tips.
Do your own research, but here is an article to get you started from Healthline with 11 things you should do while pregnant to get started with early pregnancy tips.
If you're NOT a first-time mom, I would love to hear what your early pregnancy tips would be! Share them in the comments below, and be sure to check out our First Trimester Morning Sickness Remedies list here.