We were on the hunt for the best diaper bag for twins. Our trusty old diaper bag has finally called it quits after five years of service, and it's now time to shop for a new one for the twins (plus an almost 5-year-old). My husband and I have scoured the webs for the best options, and made our choice.
These are our top picks for the best diaper bag for twins in 2019 chose by real twin parents who spend a lot of time outside of the home. Before I dive into the list, let's talk about our must-have features in order to consider a diaper bag.
Easy wipe and diaper access.
One of my favorite features of our current diaper bag is the wipe pocket on the side. I always put our diaper bag under the stroller with the wipe pocket facing out so that I can easily grab a wipe or two to clean sticky fingers (or other places) without having to pull the entire bag out.
The pocket right next to the wipe pocket is a diaper pocket. So I can also quickly grab some diapers without pulling the entire bag out from underneath the stroller. I know a lot of parents tend to keep the bag strapped to the stroller and allow it to hang, but that tends to annoy me.
I'm a minimalist and like to keep my stroller setup as minimal as possible too. Being able to shove the bag in the storage area with just access to the wipes and diaper area of the bag is usually good enough for me.
Plenty of cooler space
When my twins and older child were babies, I breastfed, so I never really cared about a cold space for bottles. Now that they are toddlers/preschoolers, cooler space is a must because we need all the snacks.
All three of my children love fruits, yogurt, and other snacks that need to stay chilled. If we are just out for a quick trip, like to Target, I can just throw in a little snack bag of crackers or cereal, but for half or full-day exursions like the zoo, I usually pack a few more options that include cold foods.
So having a good amount of cooler space in the diaper bag is essential for us to fit snacks for three kids, and requirement for the best diaper bag for twins and our family. We have been just packing an extra cooler bag, but if we can consolidate into one bag that would be phenominal.
We just returned from our first family vacation to Disney World, and it would have saved us so much time and hassle to be able to skip that extra bag.
Neutral color and design for mom and dad too
My husband spends nearly as much time with the kids as I do, and if anyone is carrying the bag, it's generally going to be him. So as much as I love that bag I saw on Amazon with the giant sunflowers, it just isn't going to be practical for our needs.
Perhaps I will at some point splurge on a not so practical, but gorgeous diaper bag, but for now practicality to the key for us. Our last bag was probably one of the least physically appealing, and most neutral, but it worked really well for us.
If there is a diaper bag that is more stylish and works well for both us, that's awesome, but it's the least of our worries. And to be honest, the fact that it just kind of blends in mean I don't stress about leaving it unattended on a stroller for a few minutes.
Must be a backpack or convert to a backpack
As I said above, my husband is usually the one carrying the diaper bag if it isn't in the stroller storage. When he's carrying it, he usually has twin B on his front in our Tula (our fav baby carrier).
I've tried using messenger bags and totes while carrying a baby on both my front and back. It is doable, but it is a bit awkward. So we want to make sure that we choose a backpack or a tote/backpack combo for ease of carrying while babywearing.
Not to mention that things can get crazy quickly with twins. Life sure is busy, and you need to have your hands free whenever possible!
The Contenders
Let's start with 10 diaper bags that we considered for the best diaper bag for twins before finally settling on our favorite option.
We love the look of this bag. It is neutral enough for both of us to carry, while still being relatively stylish. Probably the coolest feature on this bag is the magnetic flap for wipes on the side. It keeps them tucked away while also being easily accessible.
While it has a few not so great reviews, it does get 4 out of 5 stars on Amazon, and most of them are absolutely glowing. The biggest reason I am skeptical about this bag is the light color on top. Many say it cleans up easily, but to be honest, with three kids I am not into spending my little excess time scrubbing diaper bags. But if you love this design, it might be worth taking the risk!
Our twins however are way too messy to make this the best diaper bag for twins.
Because we couldn't resist the novelty of a diaper bag that can also charge your phone. How cool is that? It also has a wipe pouch on the side, stroller straps, and tons of space inside with multiple access points. I also think the built-in changing pad in the back is pretty neat.
There is a good amount of thermal space in the front of this bag, but I was hoping to find a little more than this one had to offer.
This one is a bit similar to the last one but a more simple design. There are fewer pockets, but the ones it has make a big impact, with a pretty large thermal area for bottles on the front, a wet section where you can access the bottom of the bag so you don't have to dig for that spare shirt, and expandable sides. It also comes with stroller straps, and wipes pouch on the side.
In fact, this one is pretty impressive given it's minimal look. I am now thinking maybe I need this one instead of my pick below…
I want to like this one. It is one of the more highly reviewed and I saw it recommended on a lot of other websites as I was doing my search. It just doesn't cut it for me unfortunately. The biggest drawbacks are that it doesn't have a wipe pouch on the side, just regular pouches, and the thermal section is actually a separate cube that fits in side of the bag, which is just not what I'm going for.
Because this bag is so heavily recommended around the interwebs I did just want to mention it because I considered it for a sec, and maybe it would work better for someone with different needs than I have.
I love the look of this one. It has a more masculine feel, but it's still cool for moms. My two favorite features are the cooler pocket on the front that fits two bottles, but also has little slots for spoons, and the big pocket in the back that allows you to access the large compartment. I love those pockets into the large compartment that allow you to reach the bottom easily. (Click image to see on Amazon)
This is literally the exact same diaper bag we have had the last 5 years except with one huge improvement. Instead of just one small cooler section on the side, the entire front panel is a cooler section!
The good ole Fisher Price backpack isn't going to win any awards for style, but we are going for practical here, especially with twins and kindergarten-age kid.
Not only does it have the cooler section, but it has the wipe pouch on the side and tons of extra pockets including some sections specifically for diapers on the side right next to the wipes. It's just by the far the most convenient bag for our purposes that I could find. While it isn't as easy on the eyes as some others, it also doesn't stick out. It just blends in, which is just fine with us.
What do you think? Which is your favorite? What are you must-have features for the best diaper bag for twins? Let us know in the comments below!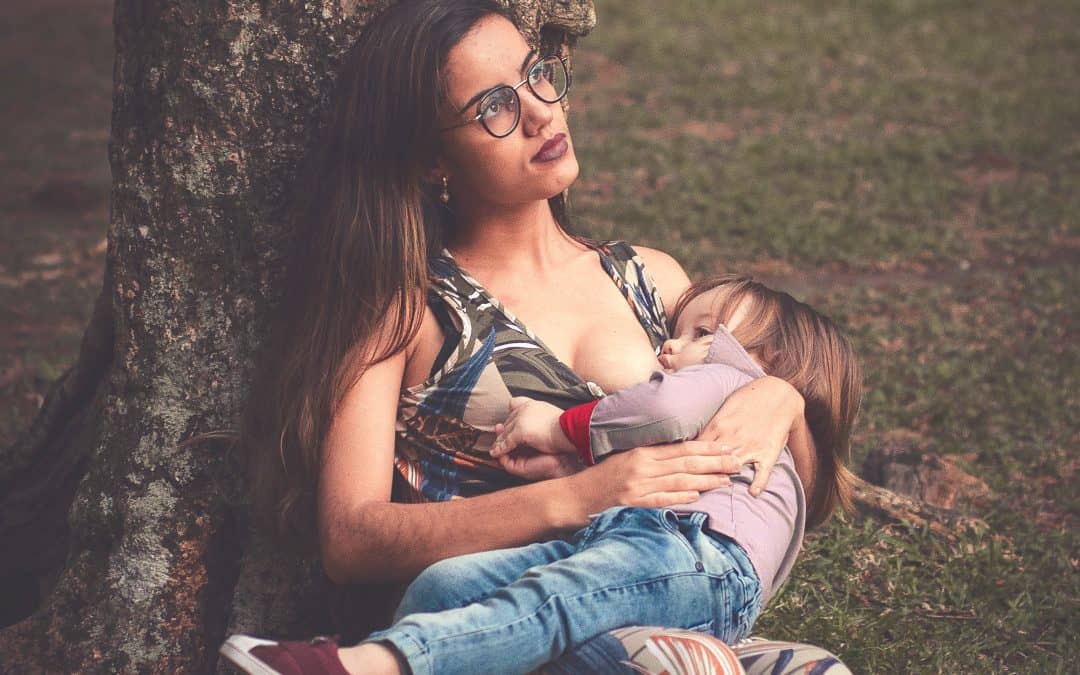 You've been breastfeeding your toddler for what feels like foreeeever, and you're ready to wean. But how? In this post, I'll break down some tips for how to wean a toddler from breastfeeding. I've put in a combined roughly 94 months of breastfeeding so far between my...