Been wondering… what do moms wants for Mother's Day? Some people are just sooo hard to buy for, and while this is just my personal opinion, I'm about to let you off the hook and clue you in on what moms want for Mother's Day.

This might be shocking to some, so prepare to clutch your pearls ladies…
NOTHING.
That's it. Not a thing. (Except maybe for my husband to get up with the kids in the morning.)
I'm just not into getting all the things this year. Not even some of the things.
Let me explain…
Raise your hand if you've Marie Kondo'd your life recently, and maybe ended up manically standing over piles of stuff that just doesn't bring you joy anymore?
Minimalism is the thing right now, not over-consumption (not more stuff for the sake of it), and my family is all aboard the minimal train for a plethora of reasons.
The biggest benefit of it though? I find that I am actually learning to appreciate and fully feel gratitude for what I DO have.
For basically my entire marriage and motherhood so far, I've been in debt. While we technically have debt now in the form of a car payment and mortgage, we no longer have credit card debt. That's ZERO credit card debt.
Digging my family out of thousands of dollars in credit card debt took a lot time, much longer than it took to get into it, and being more diligent than I've ever been in my life with budgeting and spending. (Plus, the help of family, and cashing out some old investments I had sitting around.)
I was blessed with never having to worry about money for most of my life. I have been incredibly privileged.
Then things changed when I was fired from my last full time job. After having my daughter, I just lost all interest in working. The problem was, I was the breadwinner in my family.
My husband was mostly a stay-at-home-dad, and I worked outside of the home. But doing that 1.5 hour commute each way every weekday was wearing on me. Finally I just couldn't do it anymore and my performance on the job slipped to the point that they just let me go.
Looking back, I am so happy it happened because we are finally on a path of abundance again. My husband works full time from home, and I blog and do social media work for clients. We somehow make it by, and it is still sometimes with the help of family who help me make sure my kids get all the fun extras like music lessons (thanks Mom!).
BUT – that initial period of having no full-time income coming in the door, and still needing to pay for all the things lead to a hefty credit card bill.
Also, if I'm being honest, we had some credit card debt even before I lost my job because I just sucked at not spending on useless or unneeded things. It is only through hindsight that I realize how many things I spent money on that at the time seemed so necessary, but in reality were worthless.
Things are different now though.
Besides getting rid of debt, I've been working hard to minimize our entire life and get rid of junk. (With my hubby's help too!)
This minimizing even goes so far as to make our meal planning each week incredibly simple, easy, and kind of meager if I'm honest. We have all the necessities, are well fed on awesome organic food, and my kids have snacks, but we rarely have much leftover or extra. No throwing out unused foods.
Instead of trying to cook something new every day or even every other day, we just have two main meals we cook each week.
We make a huge batch of grilled chicken breast and cut it up. Then we can just pull out some of it for on salads throughout the week. Besides the chicken, we just do one additional main meal that we back a big pot of and then eat throughout the week.
With those two meals plus things like yogurt, fruit, carrots, crackers with hummus, and other simple and easy snacks, we get by each week.
So when a holiday or special occasion comes around that gives us a reason to prepare a big additional meal, it feels like a great indulgence!
That's why the only thing I asked for this year for Mother's Day was a ham dinner! (Ok technically I didn't ask for NOTHING, but does food really count as a gift?)
A few years ago, a home cooked meal wouldn't feel like it was indulgent or special. It was de rigueur. The norm. But since minimizing everything, even our diet, this special holiday dinner my hubby is cooking for me actually feels super abundant! It actually feels like a celebration instead of just another thing we have to check off our to-do list.
And it isn't just because we do a minimal meal plan each week. We also are super minimal about holidays too. For some, like Christmas, we go all out for the kids (and each other), but for others, like Easter, we didn't do anything besides hide a few eggs filled with chocolate. For Easter, we didn't even do anything different for our meal! We just had a meal we keep on rotation that everyone in the family loves, spaghetti and meatballs.
The me that existed a few years ago would have found it sad to think about not doing all the things for every single holiday or every single birthday. (For our kids' birthdays we didn't even have parties the last couple of years, but just cake and ice cream at home. Spoiler alert: they didn't care!)
A bonus to minimizing everything beyond cost and time saving is also a huge decrease in stress!
No stressing over parties, shopping, cooking, cleaning, etc. Because ultimately what is best for me, my husband, my kids, and anyone we are friends or family with, is for us to not be going bananas trying to check even more boxes off of a to-do list that is already far too long.
Perhaps this is something that comes with life experience, getting older, or a big mix of stuff, but I've realized just how precious my life is. How precious the resources I have at my disposal are. I've realized that any and all the things could be taken away at any moment.
So, while I'm not perfect at this, my ability to truly cultivate gratitude, and also the use a self-imposed form of scarcity to create abundance, has come from being focused on what is the most important to me.
What's most important thing, and what I really want or Mother's Day, is simple and honestly kind of a trope or cliché.
I really just want to be with my family, and know that for now we are all well cared for and safe.
My husband making me a good meal? That's just icing on the proverbial cake.
I have always tried to search my brain for an idea on the perfect gift for my Mom, but she always says she doesn't need anything and doesn't want anything. I figure she's just being modest or trying to not force her kids to spend money on her. But I've realized now that I've been a mom for a hot minute that maybe I should just take her at her word.
There is nothing that I truly need, or that I want my kids or even husband to really get me right now. I'd rather just chill with them and not have the stress. (Though hand drawn pictures from my 4 year old are always welcome!)
So what do moms want for Mother's Day? If you're asking me, it's not a thing besides love. Love. Love is all you need.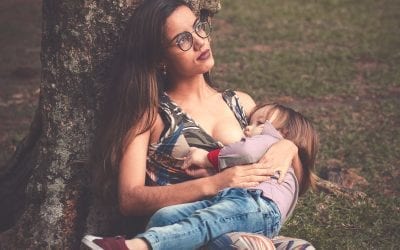 You've been breastfeeding your toddler for what feels like foreeeever, and you're ready to wean. But how? In this post, I'll break down some tips for how to wean a toddler from breastfeeding. I've put in a combined roughly 94 months of breastfeeding so far between my...