On the fence about whether you're ready to use a menstrual cup? Here's why I made the switch and never looked back!
It can be a bit intimidating when you start thinking about if you want to use a menstrual cup, but once you get into it, it turns out to be so simple and easy, you'll wonder why you didn't do it sooner.
(Heads up, this post contains affiliate links, meaning if you purchase with my link I get a small commission at no extra cost to you.)
Let's be real. Tampons kind of suck.
I've been annoyed my whole life that every month I have to shell out money for tampons. Not to mention I am not the best planner and somehow always forget to pack tampons in my bag during my period.
This has led to me shelling out more money when I inevitably end up with some ruined panties. We all have those period panties hanging around that we don't mind getting stained, right? But some are beyond rescue…
Not to mention it can't be good for the environment to keep sending trash cans full of paper and tampons out to the landfill every month. Plus, there is a concern that many popular brands of tampons contain chemicals that might be quite toxic.
So I decided after having my first child that it was time to switch to a menstrual cup.
The brand I had heard the most about was the Diva Cup, so that's what I went with.
Before I get too deep into my personal experience, let me outline the benefits if you use a menstrual cup.
You only need one (or two if you want a backup)! Just make one purchase and it will last you a very very long time. So it is a big money saver.
You can leave it in for up to 12 hours. So no stressing about making sure you have your purse stocked up before leaving the house.
No leaks. If inserted properly, it creates a seal, and nothing is escaping it!
The biggest reason I hadn't switched before was that I looked at them and thought, "that just doesn't look comfortable."
I was expecting a somewhat rigid and harder plastic cup, but it's not at all like that! The cups are usually made out of safe silicone that bends and flexes so you can fold it for easy insertion, and once it, you don't even notice it anymore.
Then I also found out that there are actually two versions. One for women who have had a baby, and one for those who haven't. So I was expecting since I had a baby that it would be bigger and bulky and cumbersome.
Again, I was surprised by just how comfortable it is. In fact, it is even MORE comfortable than a tampon for two reasons.
First, tampons tended to shift around in my vagina as they started absorbing liquid, sometimes in not so comfortable ways. Second, tampons don't just absorb menstrual fluid, but also all the good fluid your vagina needs for balanced pH levels. Tampons left my vagina a bit dry and itchy after a few days.
But with menstrual cups, if you insert it correctly, you literally can't tell it is there. At least I couldn't.


Now there's the biggest issue for many women… Getting it in. (and dumping it)
That's probably most women's stumbling block in making the switch. This was actually way easier than I expected to. Yes, there is a learning curve, but I felt like a pro by about day three.
You're going to get up close and personal with yourself, but you very quickly get used to that. When Aunt Flo finally left for the month I could remove the cup, clean it, and reinsert in about the time it takes to remove a tampon, unwrap and insert a new one.
Plus, I had NO… let me say that again… NO leaks the entire week. That is a first! I always had at least one or two leaks with tampons.
When it comes to dumping it, I usually just do it over the toilet or while in the shower. No mess.
Oh, and there is one final awesome benefit. You can totally use the bathroom with it inserted! No need to take it out to go. How awesome is that???
Choosing to use a menstrual cup is a game-changer for your vagina! Seriously, I can't say enough awesome things. Check out the Diva Cup and other menstrual cups below.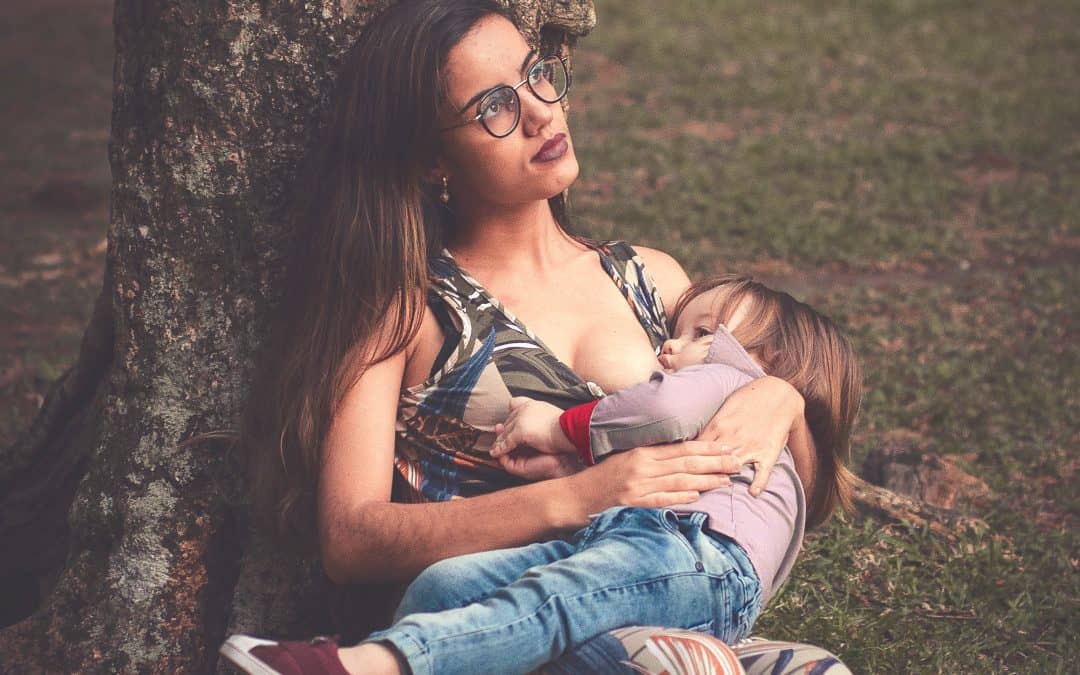 You've been breastfeeding your toddler for what feels like foreeeever, and you're ready to wean. But how? In this post, I'll break down some tips for how to wean a toddler from breastfeeding. I've put in a combined roughly 94 months of breastfeeding so far between my...