Let's talk some essential tips for blending families.
Parenting is hard. Relationships are hard. But when you start blending multiple families together there are a lot of feelings to navigate.
Justine Dean discusses with me some incredible tips for blending families and how to avoid common problems with blended families.
(Spoiler alert: these tips are incredible for ANY relationship, and are not just tips for blending families.)
1. Communication
Be on the same page. When there are many parents and children involved all coming from different backgrounds, communicating and be on the same page is key.
2. Avoid conflict by addressing issues head on
So many times we avoid what is bothering us until it turns from something small into something big. This tip for blending families calls for facing something that might be a little uncomfortable or awkward right now so you can avoid a larger conflict later on.
3. Learn from your mistakes
Justine and her husband had both been through relationships in the past. It's easy to stay stuck in our old patterns, and not really consider how we can take the lessons learned from one relationship to the next. But she and her husband were able to take what they had learned in previous relationships and apply them to their current relationship, which helped with blending the families together too.
4. Think about the future and the memories you make
The decisions you are making now will have an impact down the road. So plan now for what you want your children to remember about their blended family down the road. For example, what traditions are you creating to help your blended family bond together?
…and many more tips for blending families! We also discussed having structure, routines, and even a little about love languages!
ABOUT JUSTINE:
She is a passionate connector, who loves studying, and teaching, human behavior, and seeing her clients experience their lives with purpose and fulfillment.
Justine has over 25 years experience in relationship management, which stems from International Public Relations, Customer Service, Sales, Marketing and Management roles. (And just for something different she ran a sheep and cattle station for ten years with her first husband!)
She's a Mum and step parent. Between her and her husband, they have 5 children. They are now 17, 18, 19, 23 (our only girl), and 26. They have all been together for 16 years. Her husband, brother, nephew and 2 of their sons are Australian Soldiers.
They've moved 10 times in the last 15 years with her husband's postings, all interstate (!!!) Managing house moves, changing schools, finding new jobs each time posted, and dealing with deployments and blended family issues has given her a tonne of resilience and coping skills that she loves to share with my clients.
One of her greatest passions is connection, teaching people about their personality types, Love Languages, and the how an awareness, and application, of these two provides extraordinary shifts in every relationship in their lives.
Justine is a speaker, coach and facilitator, and travels the country running her Connection Mastery workshops within Defence and the private sector. She also coaches private clients and has an amazing online platform supporting personal growth.
Find Justine on Facebook: https://www.facebook.com/justine.dean.5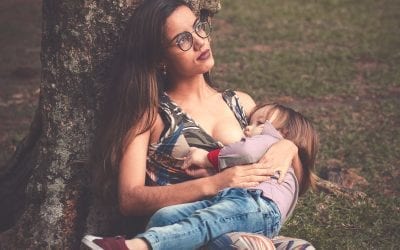 You've been breastfeeding your toddler for what feels like foreeeever, and you're ready to wean. But how? In this post, I'll break down some tips for how to wean a toddler from breastfeeding. I've put in a combined roughly 94 months of breastfeeding so far between my...