As Christmas approaches I once again stop to reset my goal for this year to be focusing on presence vs. presents.
I never understood having presents that stack to the ceiling under a Christmas tree until I had kids. You want to give them the world, but the thing I am teaching myself to remember is that to them I AM their world. At least right now that they are toddlers and a preschooler.
The greatest gift I CAN give right now is my determined goal of presence vs. presents.
Though as much as I wish I could kick this American capitalist habit of overspending, I find myself caught up in it again.
Delete. Delete. Delete…
I hit that button about a dozen times until my Amazon cart was empty. I had gone on a bit of an add-to-cart binge while looking for stocking stuffers for my kids.
What I had intended to be a minimalist Christmas filled with experiences over gifts, presence vs. presents, was turning into a very commercialized affair.
Who can blame me? You see your kids' eyes light up at presents under the tree and the promise of Santa stopping by with mounds of perfectly wrapped magic, it's hard not to whip out that overused credit card, getting into even deeper debt.
But sense took over me. I emptied that cart and reminded myself I had thoughtfully bought their presents throughout the year when I found awesome deals. Nothing more was needed.
Then my mind flashes to that paw patrol pirate ship thingy my daughter has been asking for every time we go to Target… So I pop on over to the Target app… and just when I'm about to look like this:
I catch myself again.
Let me first say, that I realize just how freaking privileged I am that these are my concerns now.
I have a home, the lights are on, water is running, it is warm, we have a tree, and there are presents under the tree. It's privilege to even ponder the question of presence vs. presents.
But finding this balance between wanting to give your kids the world while also not totally succumbing to consumerism and all the shiny things during the holiday season is a struggle sometimes.
The challenge is really cutting out all the extraneous bullshit to get to the heart of the matter.
And no I'm not going to dive into some "reason for the season" argument.
Instead I'm contemplating how I can over the long term really embrace a mindset of presence over presents in my daily life with my family.
So many times I go for the quick and easy fix instead of investing the time and energy into what matters.
Examples?
I have a four year old and twin one year olds. Life is hectic. Busy.
Sometimes my four year old feels slighted in terms of the amount of attention she receives. And she's not wrong. She used to be my only real focus, and now she shares mommy with her two little brothers.
While I do my best to really give her the attention she needs and deserves, there are days that instead I replace quality time with things. Whether those things are her fav TV show, a new toy, ice cream, etc. I replace ME with STUFF.
And look. I'm not judging or shaming myself here. I'm doing what I need to survive this phase of life, and she still gets plenty of time with me.
But as we enter the thick of this holiday season and then dive into 2019, this is a place where I am placing my attention and intentions.
If I could give it a word… it would be minimalism.
Minimizing anything that doesn't grow and enhance my relationships with my kids, friends, family, and self.
Clearing out. Making space. Creating the room to focus in the moment on what is most important to me. I honestly don't have all the answers or solutions on how to make this happen. It'll just be one step at a time.
And this most recent step was deleting that entire Amazon cart and stepping away from the Target. lol.
What about you Mama?
How do you stay focused on what matters most to you? Do you struggle to focus on presence vs. presents too?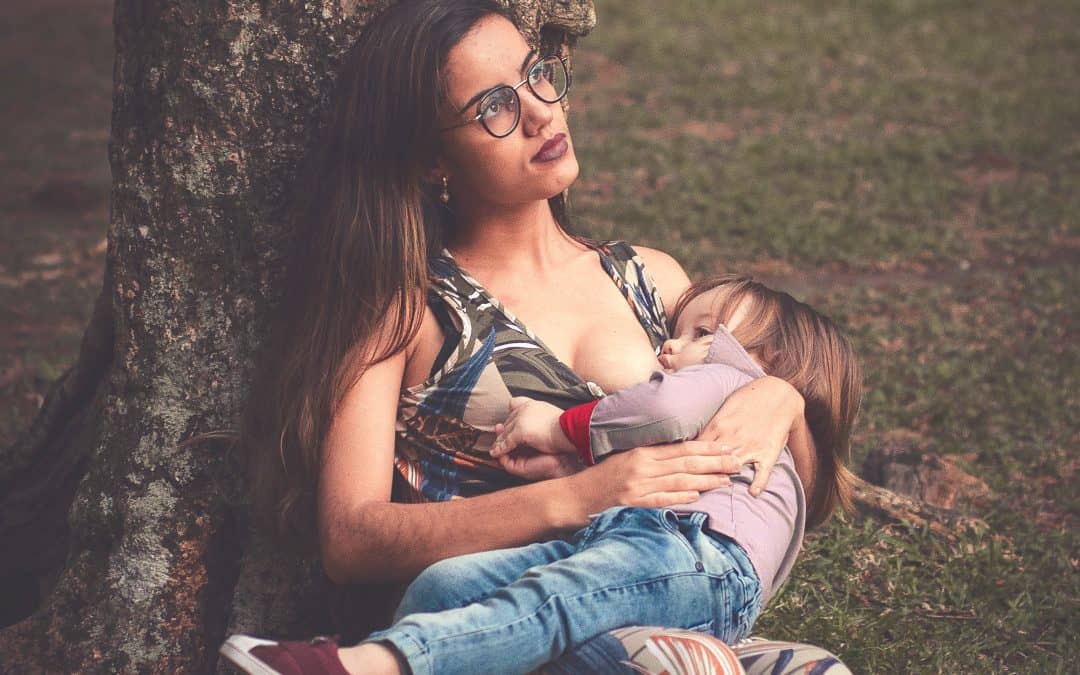 You've been breastfeeding your toddler for what feels like foreeeever, and you're ready to wean. But how? In this post, I'll break down some tips for how to wean a toddler from breastfeeding. I've put in a combined roughly 94 months of breastfeeding so far between my...