I used to laugh at those moms who said they wouldn't know what to do with alone time if they got… and now I'm one of them.
After years of being waist-deep in diapers and breastmilk, my cousin and I decided to implement a quarterly moms' night away.
So this morning I got packed up and headed out right before my husband put my twins down for their nap.
It's October and our plan is to go to a Witches and Wizards Festival and pub crawl. We are total nerds who also love Halloween and dressing up. The last quarterly adventure was the Ren Faire's Celtic weekend.
My cousin is working until late afternoon, so until them… I'm on my own! No kids and nothing to do.
Then why did I end up following my same old routine of going to Target to pick up a few things and then a drive-thru Starbucks for a grande salted caramel mocha frap?
I sat in my car deciding what the hell I was going to do for a few hours alone with absolutely nothing to do, and I felt completely untethered. But not in a "Yes! I'm so free!" kind of way. More of a disoriented and confused way.
Alone time is something I am not accustomed to anymore.
Sure I spend time alone at home or out running the usual errands. But this time I had zero to do besides exactly what I wanted.
So what do I really want to do when I have nothing to do?
I had no idea.
Luckily I was able to check into the hotel room I score for us a few hours early. It's nice. A suite in a pretty standard hotel. Not fancy, but not a budget place either.
And now as I type this I sit at the hotel bar with a nice glass of bubbly contemplating who I am now.
I wasn't always like this…
Before having kids I traveled a lot for work. I was a social justice organizer and would spend my time bopping around from city to city to work on different campaigns to help workers gain better pay and benefits. I believed in what I was doing and loved the travel.
When I had my first kid it all changed though. I just didn't love it anymore, and my lack of focus and passion ended up in me getting fired, which then caused me to devolve in a complete identity crisis where I questioned my value as a human being.
The thing is that no matter how much we deserve any and all credit for being moms, which is the hardest job ever, our society still places a ton of value on how much money you can make. If you don't make money, society as a whole doesn't see you as nearly as valuable as if you did.
Beyond the need for us to pay bills and have some left over to spoil our little ones, this I believe is part of the reason so many moms are also striving to be mompreneurs. Because somewhere deep down, we feel like just being a mom isn't enough.
And that feeling of not enough is rooted in a feeling of just not being enough as a person regardless of what we do, whether we work, stay at home, or some combo of both.
While capitalism has some benefits, there is a dark side… or perhaps many shadowy dark places we tend to ignore.
This small window of no responsibility and nowhere to hide from myself has me contemplating how I feel about myself devoid of any other old besides just being me.
I sip my rosé, sink into this stereotype of a mom who has lost herself in motherhood, and just feel how that feels.
And you know what? I think… so what?
So what if I am totally lost in a world of crayons, snuggles, nursery rhymes, picky eating, potty training, and tantrums.
Maybe I don't have to award any value to the job I do or to who I am as a person. Maybe I can just be. Maybe I can just enjoy. Maybe I can just embrace the fact that there will be times where I don't recognize myself. Maybe I can just be a human.
Not even Morgan. Just a person whose identity is and will always be in constant flux. And that is ok. Why do I need to define who I am anyway?
I am a person, a woman, a soul. There is no definition that can fully define who I am. There is no role that fully encompasses my being.
At times it is helpful for me to examine my life through the lens of a specific role, but right now, I'm just going to embrace the most basic level of humanness I can.
I'll drink this rosé, eat the Caesar salad and fries that just got delivered to my perch at the end of the bar. Then I'll go put on makeup for the first time in what feels like forever and play the role of a badass witch tonight.
I'll have fun. I'll live life.
There will be times for introspection again, but perhaps these little spaces of confusion and in-between-ness are nice places to just stop and smell the roses with no expectations.
A little mom alone time to just be before re-entering the chaos of motherhood again.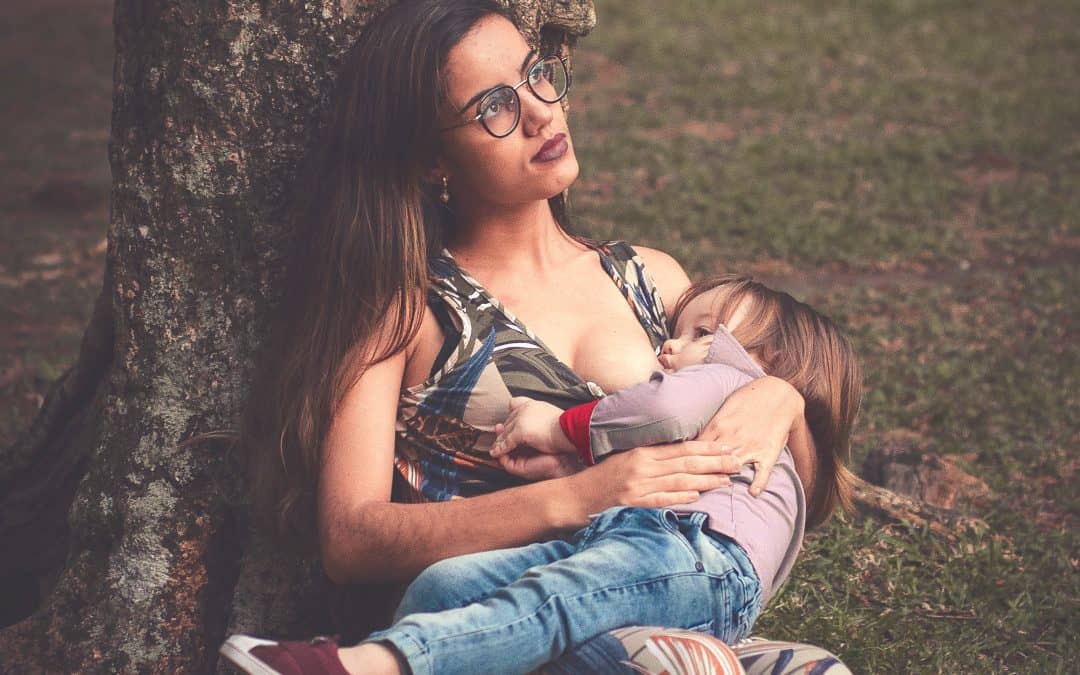 You've been breastfeeding your toddler for what feels like foreeeever, and you're ready to wean. But how? In this post, I'll break down some tips for how to wean a toddler from breastfeeding. I've put in a combined roughly 94 months of breastfeeding so far between my...