I. Don't. Do. Dishes. This isn't an exaggeration either. Even though I'm a mom, and my primary job is caring for my children, I have done the dishes less than a handful of times in the last year.
Yeah that might seem impossible… but it's true. I don't do them. And there are many many other jobs around the house that are stereotypically reserved for moms and/or women that I do not do.
I never loved doing the household chores. I'm the kind of person who lets the dishes stack up, and laundry turn into the Sears Tower before tackling it, and then the clean laundry remains in the basket for a month.
I'm great at a lot of things.
Breastfeeding, babywearing, planning trips, writing, creating complex Facebook advertising strategies, sales, marketing and more.
But housework? I suck at it. So guess what?
I don't do it!
And I don't pay someone to do it either.
You know how that stuff gets done at my house? Sit down because this may be shocking to some of you…
Prepare to clutch your pearls and scream in shock…
The truth???
My husband does it all.
That's right. The dishes, the laundry, the cleaning, and even 95% of the cooking.
Oh and did I mention the grocery shopping and Target runs?
Yep.
I try to pitch in here and there. I have some small tasks I take care of, like making sure that I gather up any dishes the kids and I have used throughout the day and set them on the kitchen island for washing, or I tidy up my the upstairs playroom I use to homeschool preschool my daughter. But these are just small tasks.
All the big household chores, they belong to him.
I love it, and you know what… I believe he secretly loves it too.
He is a very busy guy. He barely gets a break throughout the day. You see he works from home, so when he isn't doing the job that pays him money, he is doing all the housework, the shopping, the yardwork and more. While I know he would love to just relax and watch another episode of Mythbusters some days, he also gets a deep level of satisfaction from seeing all he accomplishes.
And me? I get a deep sense of satisfaction from having clean dishes I didn't need to worry about taking care of while doing the million other things that are my responsibility.
See, I'm not lucky, and while our situation may be unique in how much he takes care of in areas that are typically reserved for moms, I don't think this situation should be anything out of the norm, and luckily it is becoming less and less weird or odd for husbands to take up this amount of housework in their hands. (Did I mention he also knows how to sew?)
This is the natural progression of society. One where most tasks are able to be viewed as just another thing on the list that the family needs to accomplish.
WHO actually accomplishes those tasks is not important as long as they are done, and the family is generally pleased with the set up.
And what tasks do I generally do?
The biggest one is take care of the kids!
With a four year old and twin one year olds, it is beyond a full time job to take care of them. While he will take over with the kids for periods of time, 90% of the day (and night), the kids are with me.
I also run this blog, a podcast, and have a boutique social media management and marketing agency, all of which I do during naps or lulls in the chaos from the kitchen table as I watch the little monsters play.
Believe me, my plate is full too.
It's just not full of dishes, laundry, cleaning products or frying pans!
My hands are full of keyboards, art supplies, and breastfeeding toddlers.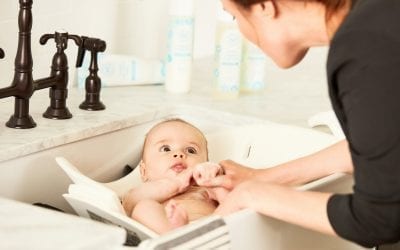 The BEST resource for learning how to totally rock momlife is the wisdom other moms learned in the school of hard knocks. So we are sharing 28 best mom hacks that real moms swear by and shared on our Facebook page. Honestly, some of the tips and incredible mom hacks...