For a lot of moms (and dads), being able to stay at home with the kids and ditch the 9-5 sounds like a fantasy. But once you're actually at home with those kids 24/7, it can get a little monotonous (and chaotic) to say the least. It can be hard to actually enjoy it. So here are our 10 best tips on how to enjoy being a stay-at-home mom.

Every single day I spent away from my baby daughter while I commuted 1.5 hours each way to work I job I no longer cared for, I dreamed of being able to stay home with her. To have relaxed days of playtime, snacks, naps, and Mickey Mouse. The reality? It didn't turn out exactly as I expected, and once I added brand new twins to the mix while also working part time from home, things got even more… complicated.
Some days were like a little slice of heaven, and other days had me seriously questioning my life choices… But over the years I've created a little toolbox of ways I don't just deal with being a stay-at-home mom, but how to enjoy being a stay-at-home mom.
(BTW – this post has affiliate links, which means I get a small commission at no cost to you if you use certain products or services.)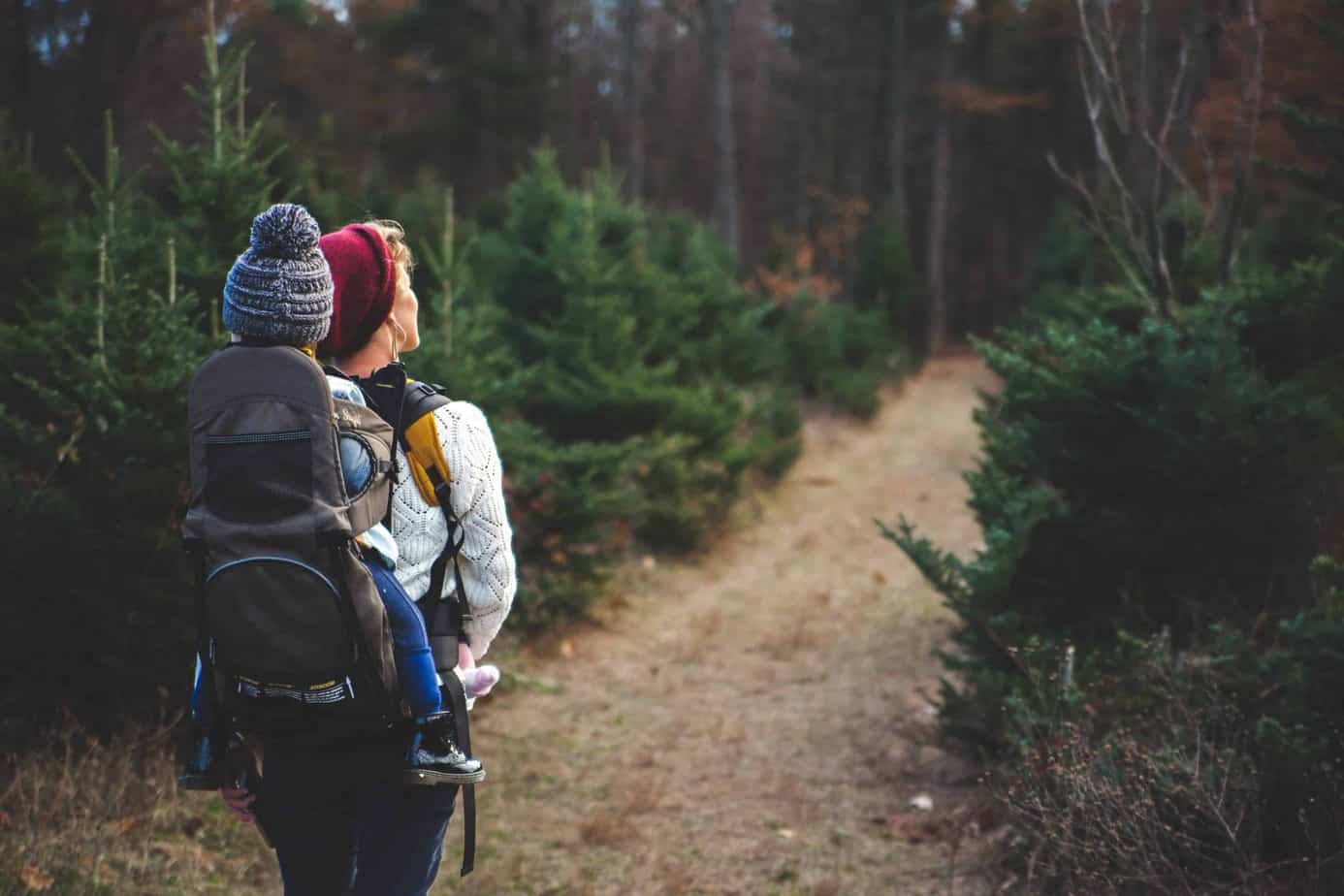 1. Go Hiking
I know, I know. You're probably already exhausted, so the thought of loading kids into car seats and then either carrying them or chasing them around the woods seems… daunting… to say the least.
But getting out into nature does wonders for your mental health (and physical health), according to Harvard Health. It literally changes the way your brain is firing when you get out into nature for 90 minutes or more.
Now what I do with my kids is really more a calm nature walk than a hardcore hike. But we end up getting some awesome exercise, fresh air, sunlight, and a little dirty. The weeks we miss going on hikes I can really tell by my mood and their moods. (We are a hot mess without this time.)
If you are interested in hiking, but have no idea where to go or where to get started, check out Hike It Baby.
I love Hike It Baby! We go on hikes with other moms and kids we have found with this organization nearly every week. It's not only awesome because it gets us out of the house, but it also means my kids (and me) get to make some friends! (which is the next tip)
2. Make Mom Friends
"It takes a village," right?
The problem is that so many of us our isolated from our village. We have no community. We live too far away from family, or we just moved somewhere new. Maybe all our old friends don't have kids yet, and we feel left out. There are a million and one reasons we can feel alone as moms. But we don't have to.
When I first started thinking about trying to make friends with other moms I was a bit scared. To be honest, the narrative that has been told over and over again lately is that there is this little thing called Mommy Wars going on, and that moms are super mean to each other and not very inclusive.
In reality? It's not like that at all. (at least outside of the more toxic Facebook groups…)
Every single time I've met another mom in real life she has been super sweet, helpful, and no matter our differences, we had something to bond over. Ya know, that whole being in the trenches together thing really helps you connect.
So check out local mom groups on Facebook or MeetUp. There are also new apps coming out all the time to help you connect, and like the above tip, Hike It Baby is awesome! You can also just start doing little things like talk to your neighbors or the mom you always see in Target the same day you tend to go.
It might take a littel vulnerability to get started, but the payoff is so worth it!
3. Ask for Experiences and Membership
Instead of physical gifts, like toys, we asked our family and friends to give our children experiential gifts if they wanted to give them birthday or Christmas gifts. We've become pretty committed to keeping our house un-cluttered to the best of our ability, given the fact that we have three kids.
Also, since none of our kids are in preschool, we want to get them out of the house and into the world as much as possible. An awesome side benefit of getting of the house is it's super helpful for mama's mental health too!
(You can only hear the hot dog song from Mickey Mouse Clubhouse so many times before your eyes start to twitch and you turn into Mad Queen Mommy.)
We ended up receiving a membership to a museum and zoo for the kids thanks to one of their grandmothers! So rarely does a week go by that we don't make it out to one of them.
Protip: pack lots of snacks and drinks. Food and beverages get super pricey at these places. I have a rule that the kids need to eat all the snacks we bring before they get any of the treats they have there, and sometimes they just don't get any because we already blew the budget on other things that week.
4. Have a Self-Care Practice (and take time to do it)
I'll spare you all the lectures about how you need to practice self-care. We all know we should. And there are a lot of reasons (excuses) we have for ignoring our own needs. But ESPECIALLY when you are a stay at home mom, you MUST make sure you take care of yourself. Moms who work outside the home might have it rough too, but they def get alone time if only on their commute.
The thing that I have learned about practicing self-care is that it isn't just about pampering yourself.
Instead, self-care has to be viewed (for me) as more of a discipline. I have to basically learn to be my own mom and hold myself accountable. The same way as a mom you make sure your kids brush their teeth, you need to have a list of must-do things for yourself and hold yourself accountable just like you do for them.
This could mean actually spending the money on new yoga pants instead of dealing with the ones that have 3 holes in them. Or maybe you actually take that 5 minutes a day to check in with yourself and journal or meditate even when you're exhausted because you know longterm it is best for your mental health.
It's tough work, this whole self-care thing sometimes. Many times it's easier to just ignore our needs because we are just so damn tired. But they are NECESSARY mama.
5. Take Your Mental Health Seriously (and ask for help)
This goes beyond your standard self-care practices. This is about knowing when you've reached your limits and you need help.
Help could mean getting your mom or bff to come over for a day while you sleep, or it could be more serious and mean you need professional help. (If you think you might have depression, you can take this quiz from Better Help to get started with an initial assessment.)
It's only now that my twins are 18 months old, and my daughter is 4 that I can look back on the last 4-5 years and realize that I have been depressed for a lot of it. It was only about a year ago that I started going to therapy. It made a huge difference!
So even if you don't feel like you are in state of crisis, but you just know that something isn't quite right. You just aren't as happy as you think you should be. See someone. You can contact your midwife/doctor even to get recommendations.
I also highly recommend Better Help, which is online therapy with real licensed professionals. It's awesome for moms because you can get your sessions in while the kids are napping (and you can even have texting sessions if that works better for you).
You can click here to be matched with a therapist who works best for you.
So let's recap quickly on how to enjoy being a stay-at-home mom.
Get out of the house!
Make friends
Get out of the house some more, plus exercise.
Make self-care non-negotiable
Seek help if you are struggling.
You go this mama! The stay-at-home momlife is NOT easy, but it is the most rewarding job out there. Let's enjoy being a stay-at-home mom as much as we can.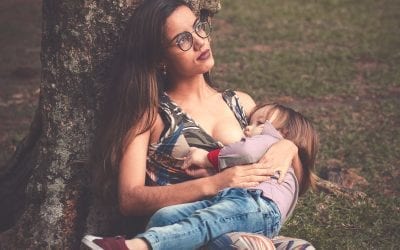 You've been breastfeeding your toddler for what feels like foreeeever, and you're ready to wean. But how? In this post, I'll break down some tips for how to wean a toddler from breastfeeding. I've put in a combined roughly 94 months of breastfeeding so far between my...