Sleepless nights are rough, and as a new mom they can drag on for so long! But you don't have to sleep train to help baby sleep through the night. Moms swear by these products for baby sleep.
Before we dive into ways to help baby sleep through the night, let's get realistic about expectations first.
It is not common for young babies, and even toddlers sometimes, to sleep through the night. In fact, "sleeping through the night" is considered to be when a baby does just 5-hour stretches of sleep.
So even when they do "sleep through the night" it probably isn't the long 8-10 hour stretch you are yearning for.
Of course, there are always those unicorn babies who just love sleeping and sleep through the night from day one, but if your baby is not one of these unicorns, don't worry. While you can always check in with your doctor to see if there are underlying conditions like reflux that could be stopping your baby from sleeping, in most cases, it's just a baby being a baby.
That said, there are ways to create the best environment possible to help baby sleep through the night. Here are some awesome products to lull that little one sleep.
(Heads up, there are affiliate links to some products, meaning I get a small commission at no cost to you if you purchase something.)
Just a quick note. Please do NOT use any products that have an inclined sleep surface or sleep device that is inclined as these are not safe and many have been recalled, and many more should be recalled. This includes Rock N Plays!
For resources on safe sleep practices for babies you can check out these resources:
On co-sleeping: https://kellymom.com/parenting/nighttime/cosleeping/
AAP on bedsharing: https://www.parents.com/baby/all-about-babies/the-aap-finally-admits-bed-sharing-happens-and-offers-tips-to-do-it-safely/
AAP sleep recommendations: https://www.aap.org/en-us/about-the-aap/aap-press-room/Pages/American-Academy-of-Pediatrics-Announces-New-Safe-Sleep-Recommendations-to-Protect-Against-SIDS.aspx
These soft and warm little suits are so adorable and definitely make up for no blankets! Lots of moms say these worked like a charm to help baby lay on their own to sleep.
These are a newer idea when it comes to the sleepsuit, but it mimics your touch on baby's chest with a small weight. It got 4 out of 5 stars on Amazon, so it might be worth a try if other options are working well for you.
When my babies were teeny, if I didn't see the Merlin suit recommended it was always this one! Mama's claim it is awesome to use when baby is a little too old for the swaddle.
Some babies need it really dark in order to sleep well. That means no lights in the bedroom, especially TV or blue lights, and maybe the sun or even ambient light from outside is messing up their sleep rhythm. Blackout curtains will keep all the light out so baby won't be disturbed the stray headlight from a passing car, or early morning sun.
On the other hand, red light has been shown to help sleep! Red light is said to aid with melatonin production, which is the hormone that helps you sleep and can help baby sleep through the night.
Most babies love white noise because it replicates the sound of mama's blood whooshing around inside the womb. A white noise machine has been reported by many moms to be the key to good sleep for baby.
This book is essential for parents who don't want to use cry-it-out or other sleep training methods that involve tears. Elizabeth Pantley helps parents find gentle solutions to help baby sleep through the night.
Helping baby to sleep through the night can be a long process because well… babies wake up a lot because that's what normal for them. But these products can help wakeful babies relax a little more.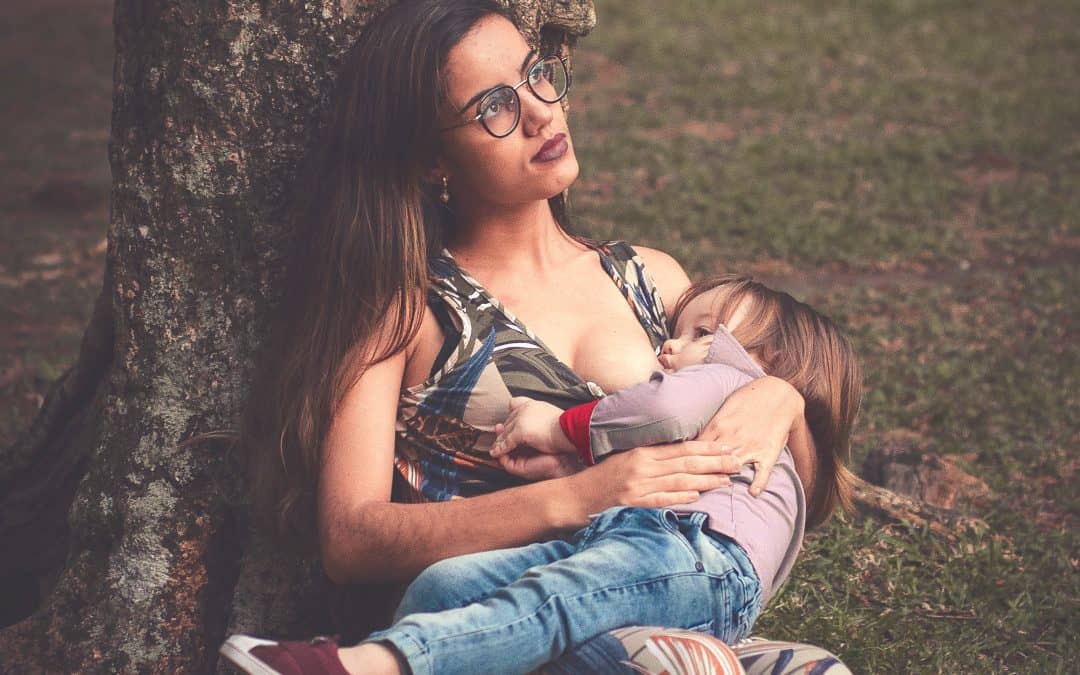 You've been breastfeeding your toddler for what feels like foreeeever, and you're ready to wean. But how? In this post, I'll break down some tips for how to wean a toddler from breastfeeding. I've put in a combined roughly 94 months of breastfeeding so far between my...