Breastfeeding is hard. Yes it's natural, but it doesn't always come naturally to many of us. Bad latch, low supply, going back to work, pressure to supplement from doctors… the list of possible issues that can arise is long and can be complicated. A few breastfeeding tips from the pros should help.
You're an awesome mama, and you just want what is best for your baby. But the idea of breastfeeding can be pretty daunting. That's why we've compiled this list of breastfeeding tips from both experts and real nursing mamas!
Here are what some other moms and experts say are their top breastfeeding tips:
"One of the biggest myths about breastfeeding is that it comes naturally to everyone. Breastfeeding is a skill that mom and baby have to learn together. It takes time to master and often requires help from a friend, family member, or professional lactation consultant. Ask for the support you need early on and you can have the breastfeeding relationship you are hoping for!" -Miri Levi, a mom of two with one on the way, a Certified Nurse Midwife, Family and Women's Health Nurse Practitioner and International Board Certified Lactation Consultant. You can find out more about her at www.justlivinghealthcare.com
"Breastfeeding is the hardest thing I've ever done, literally. But I feel such a proud and fierce love knowing that I pushed through the difficult beginning. I know now that my sacrifice will benefit my kids for the rest of their lives, in ways that science is still discovering. Suddenly it doesn't seem as big of a sacrifice anymore. Isn't that beautiful?" -Sarah Marquez, mom and blogger from realsimplemama.com
"Just because breastfeeding is the most natural thing to do, doesn't make it the easiest. It took me a few months before I felt like breastfeeding was easy for us." -Meghan Winters, Breastfeeding advocate and counsellor in-training.
"Attending La Leche League meetings while pregnant is a great way for expectant moms to prepare for breastfeeding. You'll learn how to deal with possible difficulties, as well as build a support system of experienced moms who you can call any time for help." -Amber Herb, mom and La Leche League Leader. Find out more about LLL at www.llli.org.
"Surround yourself with support! It is so important to have a great support group you trust where you can ask questions, vent, and brag about all your accomplishments and goals! The beginning can be hard and at times you may question giving up. It DOES get easier. Trust your body, it was designed to make milk. There are so many products to help with pain, my favorite is Amorini silver disks. They helped heal me when I needed relief from pain. Even the LC and doctors complimented how well my nipples looked with a newborn! Stay motivated and don't be scared to ask questions, we all need help at one point in time." -Crystyn Leigh Haun, Mom of two, breastfeeding advocate, baby wearing educator and photographer. You can check out her work at www.facebook.com/photographybycrystyn
It may be the most challenging part of being a new mom, but in the long run breastfeeding actually simplifies your life because you don't have to deal with bottles and mixing formula. Your baby is less likely to get sick, which means fewer trips to the doctor, and you have two built in comfort objects to help a fussy baby relax. Like Sarah Marquez said in her guest post, it will be tough at first but if you want to take the lazy way, breastfeeding is a great choice. Just be sure to read as much as you can so you're educated and if you don't know any other breastfeeding moms, create your own network of support online! That will give you hundreds of breastfeeding tips to choose from!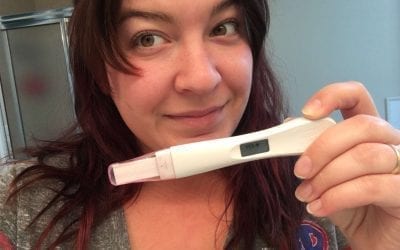 Think you're pregnant or trying to conceive? You're probably wondering what kind of pregnancy test should I buy? These 5 questions will help you choose which is best for you, and we'll give you our pick for the best one. So you can answer the question for yourself on...