I decided it's time to embrace being fat. I've tried accepting my new mombod. I've tried changing it. I've tried to love it for giving me babies and nourishing them.
But what if I try something new and lean into being fat?
What if instead of loving myself and my body even though I'm fat, what if I can rewire my brain to actually see the beauty in my chubby little body?
Maybe I can find a way to embrace my fatness. Can I start seeing my body in the way classical painters saw the curves and dimples of the women they put on the canvas? Can I finally banish those images of Playboy bunnies and 90's Britney as the ONLY ideals for women?
This is my challenge now. Not to love my body and embrace it for its utility, but to actually see the beauty in cellulite and stomach rolls, stretch marks and thighs with no gap.
I have spent the last 5.5 years either pregnant or breastfeeding. To say my body has gone through some changes would be an understatement. And did I mention that one of those pregnancies was twins?!
I've always been a bit chubby. Even when I was at my most fit I still had some cushion for the pushin' because of how I'm built.
That's right, even when I literally worked out 5-7 days a week as a high school athlete I had some cellulite on my thighs and my belly wasn't flat.
Ever since I can remember, I've hated my body. Ever since I can remember having an opinion about the way I looked, I hated the way I looked because I was not perfect.
It seems silly to expect perfection of yourself, but perfectionism is something I struggle with. The worst part is that there was never any chance of me having a perfect body just by my genetics. I'm too short and too curvy and too muscular. I do have some big boobs, but they aren't the perfectly round and perky ones everyone pays for.
And even now at 32 years old, I have been battling this perfectionism, or at least "good enough"-ism. There's some mystical bar inside of my mind of what I should weigh and how I should look. If I don't cross that threshold then I'm just not attractive enough or worthy enough.
Worthy… worthy of what? Love? Happiness? Life itself? All of it?
Ugh.
Guess what. I AM worthy of everything and anything. My worthiness, and frankly my sexiness, is NOT dependent on some ideal dress size.
I beautiful and hot just as I am.
Not only that, but I'm actually healthier being fatter.
You this story has a before and after that seems a little backwards at first glance. My "before" from 2018 is a thinner me, and my "after" from the other day is a more chubby and fat version of me.
Why is that a good thing to be thinner? How can that be a good thing if I am healthier now?
For most of 2018, I was separated from my husband while we worked on ourselves and I had an existential crisis while caring for twin babies and a 3-year-old.
The stress led me to start smoking again, drinking a little more than I'd like to admit in the evenings once the kids were in bed, and not eating most of the time. (And not eating in a bad neglectful way, not a healthy intermittent fasting way.)
I wasn't getting exercise besides chasing the kids around and was overall just neglecting my own physical needs.
Then last fall, my husband and I decided to give it another shot thankfully. I quit smoking, drink much less, and I eat a healthy diet.
Sure there are donuts that slip in there, but for the most part, I eat salads, home-cooked meals, smoothies, fresh juices, and lots of water. I also do intermittent fasting (the 16:8 method) mostly to help ease some issues like psoriasis, which has been super helpful in diminishing.
I also exercise nearly every single day by going on walks and making sure I get over 10k steps in.
But I have STILL gained about 20 lbs.
So you know what that says to me? That being fatter is actually healthier for me!
No matter how much I try to shake the feeling of inadequacy over this fat, the less happy I am. I don't want to be worried about eating one of the chocolate chip pancakes I make for my kids. I want to eat the damn pancake and enjoy my life.
And if my family genetics are any clue, I'm probably just going to get fatter as I get older. Oh well. As long as I can keep up with my kids (and hopefully someday grandkids), and I FEEL good, then that's more important than anything else.
For me, enjoying my life means embracing being fat. Not just accepting it, but learning to see myself as actually sexy, beautiful, and totally worthy because my value as a person isn't based on a few extra pounds.
PS – I love following Meg Boggs for all things body positivity and mommyhood.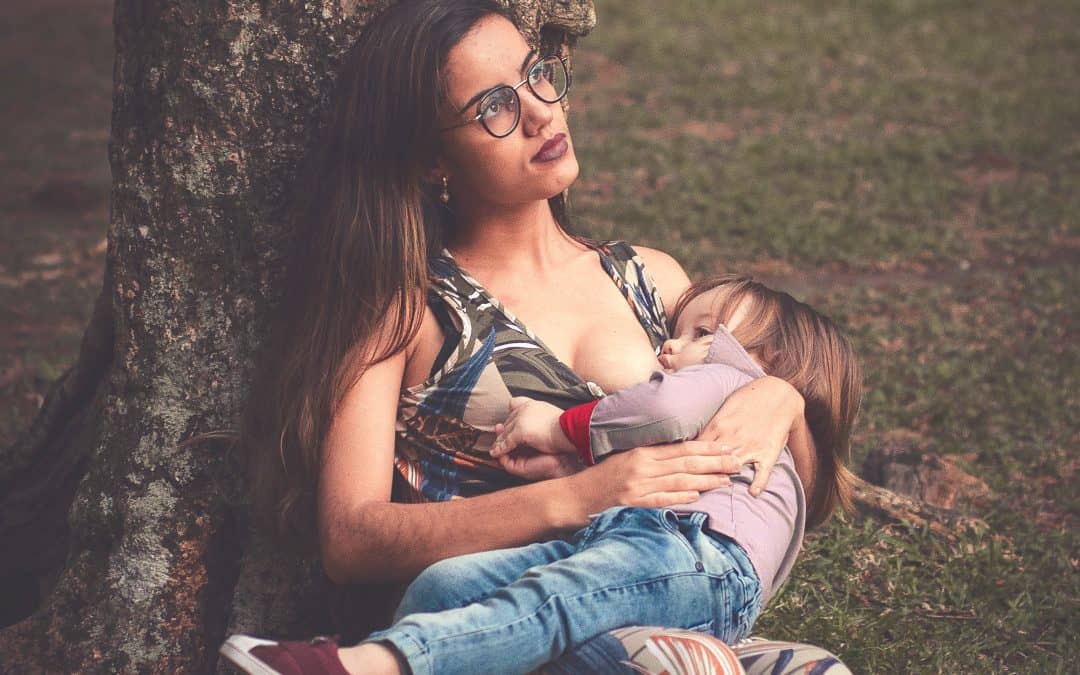 You've been breastfeeding your toddler for what feels like foreeeever, and you're ready to wean. But how? In this post, I'll break down some tips for how to wean a toddler from breastfeeding. I've put in a combined roughly 94 months of breastfeeding so far between my...