It's easy to get caught up in the chaos of motherhood, but being a mother is the best feeling.
This whirlwind of diapers, sticky hands, bath times, bedtimes, routines, schedules that are thrown out the window, baby pools, and more is exquisite even if it's so hard. I try to remember how being a mother is the best feeling in the world and I will miss this time soon.
My forehead is pressed tightly against my daughter's cheek. She is about to fall asleep in my bed for what might be the millionth time. As long as she wants to sleep next to me, she is welcome. It won't be long and she will be a tween and a teenager… the moving out into her new life. Her own life.
And then what?
I am very far from being an empty nester with a four-year-old and twin twenty-month-olds, but my mind sometimes wanders to that future.
Sometimes the love and feeling of accomplishing the miracle of creating, birthing and raising time humans is so overwhelming that I don't know how anything could ever compare to this.
I know there must be a way that I will find joy and meaning. It will be a new season, but right now I'm just so deep in the motherhood game that I can hardly see anything else.
But… there's the "but" that resides deep inside of me that suspects I am right now doing the greatest thing I will ever do in my entire life.
The day after I gave birth to my twins I cried out of pride (and bittersweet sorrow) because I believed I had achieved the greatest thing I will ever do, gave birth to twins vaginally without an epidural. Two healthy babies. A combined weight of 15 whole pounds.
And while I look back on that day and know that I did accomplish something incredible. It was just ONE of the greatest things I will do in my life.
Because one thing I am learning is that in motherhood (and life in general) some of the greatest accomplishments are just simple events that seem insignificant to an outsider.
The other day I caught my daughter singing "You Are So Beautiful to Me" to herself softly. I had only sung it to her maybe twice, and mostly in a silly joking tone. But it had stuck with her.
I wonder wistfully whether this small exchange we had will stay with her even longer, and maybe just that little token of my love will be enough for her to remember during her toughest days and cling to it. That this little song will help her remember to love herself as much as I love her.
That tiny interaction might be one of my greatest accomplishments as a mother and person… I might never know.
And just like the many many ways our lives touch other people, I also have no way of knowing what my life will look like when my children are grown.
But if there is one thing I know for sure.
I will savor these moments. I will treasure them.
I won't be perfect.
I will have days I yell and lose my shit and wonder why the hell I signed up for this gig because if just one more person asks me for a snack after not finishing the last one so help me…
But at some point in every single day, I will find a way to relish it. To let the love I have for them and the realization that I am living in my purpose in a way words can't describe just wash over me.
And I will be able to look back on this time and know I made the most of it.
There will be more life after they leave me and don't need me anymore, and if I do my job well that's exactly what will happen. I can't fathom what that will feel like, but for now, just being a mother is the best feeling. So I'll revel in that.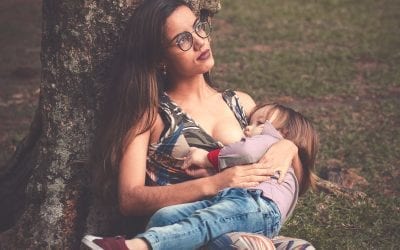 You've been breastfeeding your toddler for what feels like foreeeever, and you're ready to wean. But how? In this post, I'll break down some tips for how to wean a toddler from breastfeeding. I've put in a combined roughly 94 months of breastfeeding so far between my...