What is it like being a mom with depression? How are we parenting with and through mental illness?
Thankfully there has been much more attention placed on Postpartum Depression and Anxiety, and the stigma has slowly been fading from being a mom with mental illness. But we still have a ways to go to truly being and feeling supported as a mom with depression.
April Ross joins me today to discuss depression, mental illness, and how she has personally coped. I also share how I have dealt with depression and anxiety in my own life.
I also just happened to be going through a round of depression as I put out this episode, and shared that in the intro. I try to be as open as I can with the struggles I go through as a mom and a person in the hopes that someone out there listening will know it isn't just you. It's me too, and its a lot of us.
Being a mom with depression is hard, but there are resources to help.
I also stronger encourage moms who are dealing with mental illness to find help.
I have used and recommend Better Help: http://momuprising.com/betterhelp
They are an online service that connects you with licensed mental health professionals for virtual help.
For some more laid back methods for self-love and getting in touch with yourself, you can try these 5 ways to find yourself in 5 minute or less: www.momuprising.com/5minutes
April Ross is a Mental Health Maverick specializing in helping women with Bipolar live a happy, confident and fulfilled life.
April was diagnosed with Bipolar Disorder after the "2 year depression from hell" following a miscarriage in 2007. Even after meds she had so much underlying trauma and emotional dysfunction that she felt broken, alone, and worthless.
She took a bucket (f*** it) list trip to Hawaii with her Mom and Daughter, and that's when everything changed. She realized she felt amazing after just two days and dedicated her life to finding out how to live EVERY day like a day at the beach- for REAL!
April has shaken her life like a snow globe and knows what works and what doesn't when it comes to mental stability. She knows how to go from lonely and afraid to confident and fulfilled in EVERY way and is dedicated to helping others do the same.
April is a writer, speaker, and field advocate for the AFSP (American Foundation for Suicide Prevention). She has graduated the High Impact Coaching program, holds an Associates Degree in Business Administration and is a member of the International Association of Women.
Find April on Facebook at her page: https://www.facebook.com/rebelofjoy
or join her group, Reverse Depression NOW: https://www.facebook.com/groups/reversedepression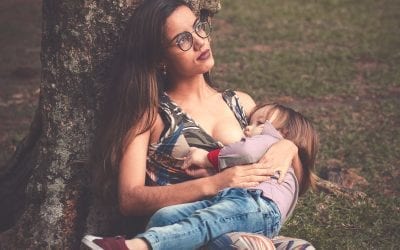 You've been breastfeeding your toddler for what feels like foreeeever, and you're ready to wean. But how? In this post, I'll break down some tips for how to wean a toddler from breastfeeding. I've put in a combined roughly 94 months of breastfeeding so far between my...